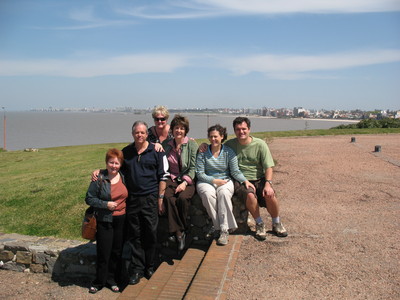 Montevideo, UruguayGreetings from snowy Wenatchee, Washington,
I had hoped to write about our trip to South America sooner, but things have been busy since we got back and it took some time to sort through all the pictures.
Our trip started Thursday afternoon, October 9 when we left work a bit early to drive to the Atlanta airport. Our first flight from Atlanta to Miami was uneventful, although I left my belt somewhere in the Atlanta security line and it was gone when Brenda went back to look for it. I normally would have gone back myself, but I was nursing a sore foot which I had twisted while hiking the previous weekend. From Miami we caught a 9 hour overnight flight to Buenos Aires, Argentina where we met up with my dad before boarding the next flight on to Montevideo, Uruguay. My mom was already in Uruguay since she had gone early to spend time with her sisters. Upon arrival in Uruguay we were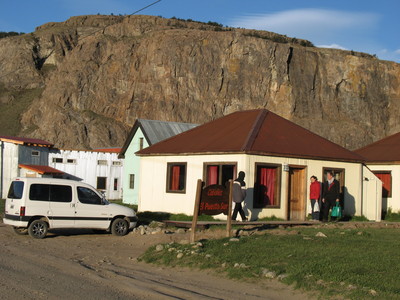 Our rental vehicle and cabin in El Chaltenmet at the airport by my aunt Judy who lives and works in Montevideo. She took us to her apartment where we got settled and had a good lunch. We then walked around town a bit and visited Judy's office before heading back to her apartment. Some of us ended up taking a taxi back as Brenda was still getting over bronchitis and strep throat, and I was trying to take it easy on my foot. After resting a bit we went out for supper and then enjoyed a good nights sleep after our long night and day of traveling.
The next day we went on a guided tour of the city which included stops at monuments, gardens and scenic overlooks. We had an excellent guide and really enjoyed seeing the different neighborhoods and learning about the city. After the tour we packed our bags and headed to Colonia, which is about 3 hours west of Montevideo. Upon arrival in Colonia we got settled in to our hotel and then did some expl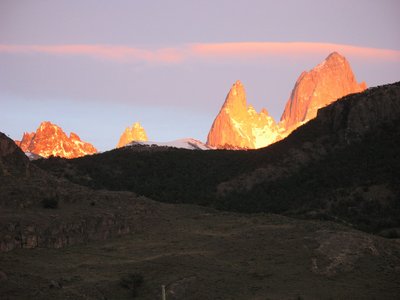 Mt. Fitzroy at sunriseoring and found a nice restaurant overlooking the water for supper. Colonia is an older town on a peninsula with cobblestone streets, small shops, historic buildings and lots of restaurants. Before heading to bed we visited a very good ice cream shop next door to our hotel. The ice cream was like the Gelato that we used to get in Cyprus so it was a real treat.
Sunday morning we awoke to rain so we took our time getting up and eating our hotel breakfast. We then went to a craft market and walked around town for a couple of hours as the weather cleared up. Along the way we saw the old city gate and walls, climbed to the top of a lighthouse, played with a friendly cat and then found a restaurant for a late lunch. The menu sounded good at the place we chose, but it turned out that they were not serving a full menu until dinner time. We still found some things to order but it ended u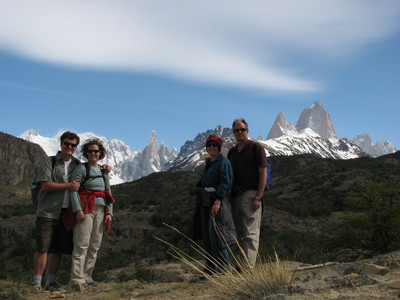 Hiking in the Andesp taking nearly 2 hours to get our food, and once the food came it was pretty bland. By the time we finished eating we had just enough time to get our bags and then head to the port to catch our ferry to Buenos Aires, Argentina. Before leaving on the ferry we said goodbye to my mom's sisters as they would not be joining Brenda, my parents and I for the trip south to Patagonia. The ferry only took about an hour and upon arrival in Buenos Aires we caught a taxi to our hotel with a quick stop at the ATM to get some Argentine pesos. After checking in to our hotel we found a local supermarket where we bought some cheese, crackers and mandarin oranges which we had for supper before heading to bed.
We enjoyed another very good hotel breakfast Monday morning and then caught a taxi to the domestic airport for our flight south to El Calafate. The flight was around 3 hours long, and as we sta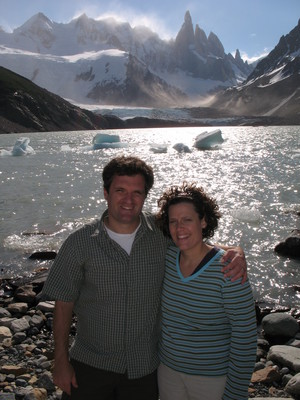 Enjoying the view after hiking 7 milesrted our descent we caught our first glimpses of the Andes mountains. On our way in to land we flew over a beautiful lake with many "boats" on it. As we got closer we gradually realized that the "boats" were actually icebergs! The airport was quite small with just one baggage claim belt and a nice view of the lake. The one gate with a jet bridge was occupied by another plane when we landed, so we walked down a set of moveable stairs and across the tarmac to the terminal. After collecting our bags we met up with representatives from a car rental company we had made arrangements with. The Peugeot Partner we had reserved was ready to go and after completing some paperwork we were on our way. Instead of driving the 15 minutes in to the town of El Calafate, we headed in the opposite direction to the town of El Chalten about 3 hours away. Along the way we enjoyed excellent views of rivers, lakes and mountains and stopped several times to take pictures. At one of the stops we spotted a critter called a peludo which is a type of armadillo. The route was pretty desolate with no gas stations at all, and just a few buildings near the half way point, one of which was a small restaurant and hotel. We decided to stop at the restaurant for a snack, and learned that Butch Cassidy, the Sundance Kid and his wife Etta Place had actually stopped there around 1905 on their


Lago Torre & Cerro Torreway from Argentina to Chile. As we got closer to El Chalten the mountains seemed to keep getting bigger until finally we came over the last ridge and descended into the small town in a valley surrounded by mountains. The town of El Chalten is fairly new as it was only founded in 1985 and has a real frontier feel to it. Upon arrival we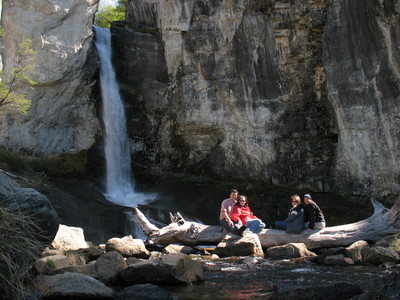 Waterfall near El Chaltengot settled into our cabin and then did a little shopping at a basic grocery & hardware store within walking distance. For supper we enjoyed a nice home cooked meal in our cabin with views of the mountains before heading to bed.
Tuesday morning we slept in a bit and then drove out of town on a dirt road towards Lago Del Desierto (a lake). Actually this was the only road out of town other than the one we arrived on and it ended at the lake. Along the way we stopped several times for pictures and then took a hike along Rio Electrico (a river). There was a sign at the start of the trail that mentioned a fee of some kind but we didn't understand all of the Spanish words, so decided to just follow the trail and turn around when we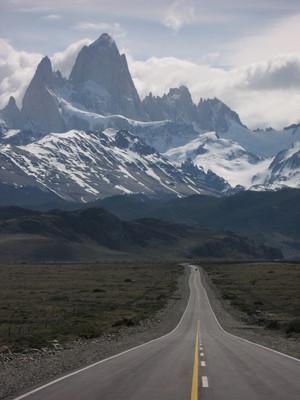 Road to El Chaltenwere ready. We ended up hiking about 4 miles up the river to a private horse camp. It turned out there was an entrance fee to go on the lake and glacier trails beyond the camp, and we decided to turn around instead of paying the fee. We figured 8 miles roundtrip was probably enough hiking for our first day, plus we would be seeing many other glaciers later on. As we hiked back the clouds got darker and it even drizzled a bit, but we never really got wet. Once we got back to the car we drove a few more miles and then stopped at an overlook for a picnic. It was pretty cold and windy so we ate in the car, but enjoyed the view of a lake with several pink flamingoes and other birds in it. After we finished eating we continued on to the end of the road at Lago Del Desierto. Along the way we saw a very recently born baby cow, rabbits, ducks and many other birds. We then spent some time enjoying the view of the lake and a nearby glacier before heading back to town. By the time we got back to our cabin it was dark, which was pretty late since the early spring sunset time during our visit was around 9:20pm.
The next morning we had a leisurely breakfast and then set out on the trail to Lago Torre. The trailhead was at the edge of town so we just started hiking from our cabin. We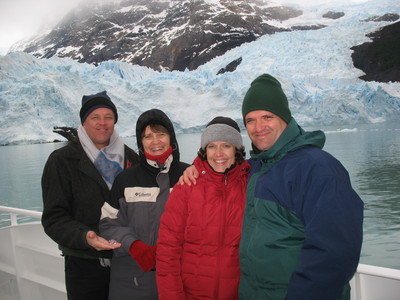 Boat tour of the glaciers on Lago Argentinaweren't sure how far we would go, but decided to play it by ear since it was about 7 miles to the mountain lake. So far my foot was doing well and Brenda's energy was much better after getting several good nights of sleep. About 30 minutes into the hike we came over a ridge and were treated to an awesome panoramic view of the mountains with blue skies all around. The weather in Patagonia is often cloudy and we were very lucky to have such a perfect day for our hike. We kept following the trail for several hours and enjoyed seeing flowers, birds, waterfalls and more mountain views along the way. Eventually we made it all the way to the glacier fed lake where we dipped our feet in the icy water and took a few minutes to enjoy the


Moreno Glaciermagnificent views. We then started the hike back to our cabin and made it in good time. Although we were pretty tired after hiking 14 miles roundtrip, the amazing scenery was well worth it. We were definitely glad that we had packed a picnic lunch and that the stream water was safe to drink along the way too. Back at the cabin we enjoyed another home cooked supper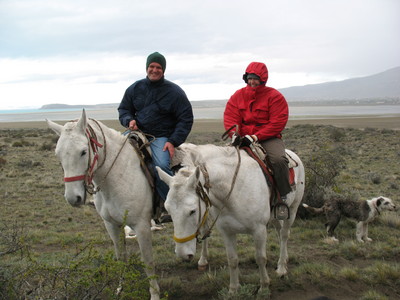 Horseback riding in the rainbefore heading to bed.
Thursday we loaded up the car, checked out of our cabin and then spent some time exploring the craft shops in El Chalten. Next we drove to a nearby waterfall where my dad and I found our own route to the top of the falls. We then headed back south to the town of El Calafate with several stops along the way for scenic views. Upon arrival in El Calafate we got settled in to the Bed & Breakfast we had reserved and then headed to town for a nice pizza dinner.
Friday morning we enjoyed a good breakfast and then drove about 20 minutes to a port area on Lago Argentina. We had made arrangement to take an all day boat tour of the glaciers which turned out to be a highlight of the trip. We got to see many icebergs and about 4 major glaciers including the most famous Moreno Glacier. At each stop we would spend time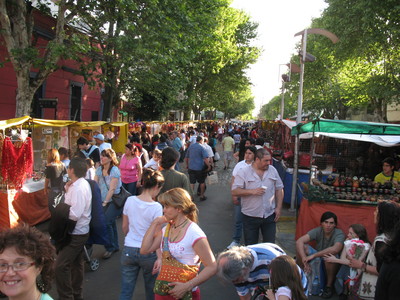 Matadero market in Buenos Airesjust idling back and forth to give everyone plenty of time for pictures and to enjoy the breathtaking views. In between stops most people would go inside to get warm, but I spent much of the time outside watching the mountains go by and just enjoying the time on the lake. When we first arrived at Moreno Glacier it was raining and dark, but while we waited the weather cleared and we had blue skies for pictures. In the evening we did a little shopping and then for supper we had empanadas which are pretty common in Argentina. They are kind of like pizza pockets and come in many interesting varieties including sweet corn, spinach, onion and tomato basil.
On Sabbath we decided to go exploring by car and ended up driving around on several dirt roads. Along the way we saw lots of sheep, flamingos and other birds and also enjoyed more good lake views. We ended up having our picnic in the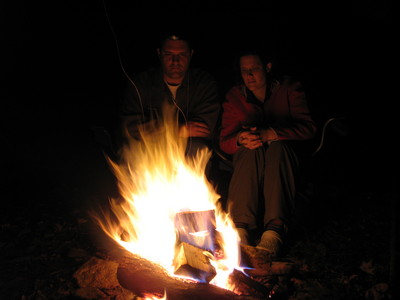 Enjoying the campfire car though since it started to rain a bit. After lunch we headed to the airport to drop off my parents as they were flying to Buenos Aires a day earlier than Brenda and I to connect with their flights home. From the airport Brenda and I headed to some horse stables where we had made arrangements to go on an evening horseback ride. Unfortunately the clouds rolled in and a steady rain started just as we started our ride. It was quite windy and cold but we still enjoyed riding the horses and had a good view of the town on our ride.
Sunday morning we had a little confusion about when exactly our flight was leaving since there was a time change for daylight savings time in Buenos Aires. Apparently the province we were visiting decided not to participate in the time change, so all of the flights ended up leaving an hour earlier than the times printed on the tickets and boarding passes.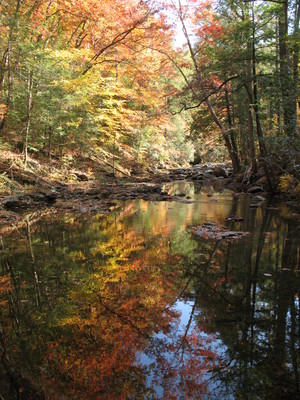 Fall colors in north Georgia Thankfully our bed and breakfast owner warned us about the problem so we returned our rental car and made it to the airport with plenty of time to catch our flight. We then had an 8 hour layover and airport change in Buenos Aires. Upon arrival we first dropped off our luggage at the hotel we had stayed at for our previous layover. We also changed into cooler clothes since the weather was in the 70s instead of the 40s and 50s we had come from in Patagonia. We then took a taxi to the Matadero Fair, which is a large outdoor Sunday market. They had stalls selling handicrafts, flea market type stuff and food from all over Argentina. There were also several stages with various musical performances going on and some groups doing traditional dances in the streets. We really enjoyed seeing an authentic side of Buenos Aires and also purchased a new belt for me and a hammock. For lunch we tried some food like corn bread and for dessert got a strawberry smoothie and a fruit kabob. The kabob consisted of sugar coated fruit chunks with pieces of popcorn stuck to them and the smoothie was very fresh since local strawberries were in season. From the fair we headed downtown and walked around a bit. We saw a memorial flame, several wide avenues, an old subway station and a number of government and historic buildings before picking up our luggage for the taxi ride to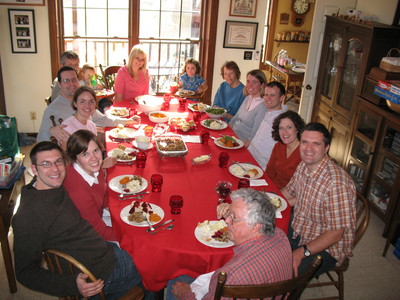 Thanksgiving in McMinnvillethe international airport.
Our flight back to the US left at nearly midnight and got in to Miami around 6am. From there we flew on to Atlanta and then drove to Chattanooga where Brenda dropped me off at work around 1pm. I got some sleep on the flight, but was still glad to get to bed Monday night after around 30 hours of travel and half a day of work.
Overall we really enjoyed our trip to South America. It was especially fun to spend time with family while also getting to explore some new parts of the world.
We started November off by attending a Sabbath afternoon potluck gathering for former Far Eastern Division missionaries. We had fun visiting with others who have been overseas in Asia and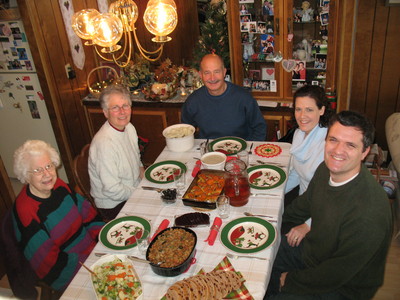 Christmas dinner in Wenatchee enjoyed a wide variety of tasty Asian foods. We also went camping for a weekend in north Georgia to celebrate Brenda's birthday. We went at the peak of the fall colors and really enjoyed exploring forest service roads among the brilliant and varied shades of yellow, orange and red leaves. We also hiked to a mountain top fire lookout tower where we had an expansive view of the surrounding area. For Thanksgiving we joined my cousins at my grandparents house in McMinnville, TN. We enjoyed lots of good food, visiting, table games, croquet and ping pong over the long holiday weekend. It was really nice to spend time with family that we will not see for Christmas this year.
In December we enjoyed several Christmas concerts including one organized by Casting Crowns in Birmingham, Alabama. Since my Uncle Steve and Aunt LeAnne live in Birmingham, we spent the weekend with them and attend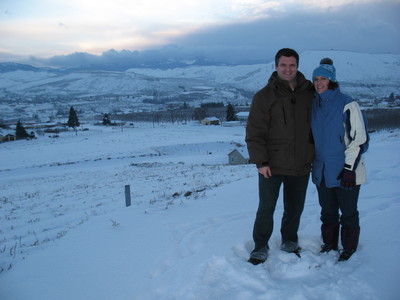 Hiking in snowy Wenatcheeed the concert on Saturday night. We also attended several Christmas parties before flying to Washington state on Christmas Eve to spend the holidays with Brenda's parents. We are thankful for a smooth, on time flight to Seattle since there were many weather related delays in the Northwest this year. We are also thankful for a safe drive over two snowy passes to Wenatchee where we are now enjoying time with Brenda's family. So far it has been great to just spend time relaxing, visiting and enjoying the snowy weather. This week we plan to see more of Brenda's family and also hope to get in some snow skiing before flying back to Tennessee in time for work next week.
I hope this holiday season finds you doing well. Keep in touch and have a Happy New Year!
Until next time,
Andrew
As usual there are more pictures online in the gallery.