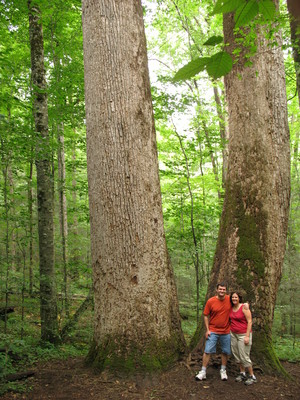 Joyce Kilmer Memorial ForestGreetings from Chattanooga,
Well, it has been too long since my last update and we have been busy. Married life is good and we are getting settled in to our house and life together. It's hard to believe that we have already been married for over 10 months.
Well, the last update concluded as we arrived back in Chattanooga from our honeymoon on July 1. After getting back I returned to work the following day. On my way to work though Brenda and I met Rich & Melissa from Maryland for breakfast. They were just passing through town but it was nice to see them briefly and meet their new son. Our first Sabbath after we got back our church met in our new building which we are really enjoying. Also in July My parents came for a long weekend visit over my dad's birthday. We celebrated by riding the incline railroad to the top of Lookout Mountain. My grandparents also joined us from McMinnville. The last weekend of the month we enjoyed a getaway to Cherokee, NC in the Smoky Mountains to celebrate my birthday. We stayed in a cabin and went to see Unto These Hills which is a dramatic performanc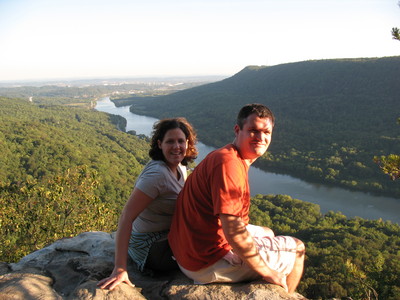 Edwards Point View of Chattanoogae about the history of the Cherokee people. It is put on in an outdoor theater and was very well done. We got rained on a bit but it wasn't heavy enough to stop the show. We also explored the first few miles of the Blue Ridge Parkway and visited several Native American craft stores. On the way home we hiked in the Joyce Kilmer Memorial Forest and then drove on the scenic Cherohala Skyway which winds through the hills of North Carolina and Tennessee. The route climbs to 5,390 feet and we were pleasantly surprised to find wild blueberries along the way. Most of what I picked did not make it into our gladware "bucket", but we still managed to bring home about a quart of berries to enjoy over the next week.
In August we warmed our house by hosting our young adults group for potluck and then visited my grandparents on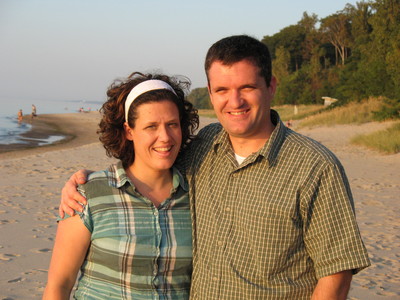 Lake Michigan Beach another weekend. Brenda's brother and his family also arrived to stay several weeks with us while they kept a busy schedule meeting with people and doing presentations in the area about their mission work. Although they were busy, we still got to spend some quality time with them and enjoyed having them here.
Over labor day weekend we drove up to Maryland for my cousin Summer's wedding. We had a fun but busy time hanging out with family and helping with the wedding. The ceremony was beautiful in an outdoor setting with a fun picnic reception afterwards. On the way home we met up with family again for a birthday celebration at a fun park. We played miniature golf and several other games before driving back to Chattanooga. After a couple of weekends at home we then drove down to Birmingham, AL to meet my cousins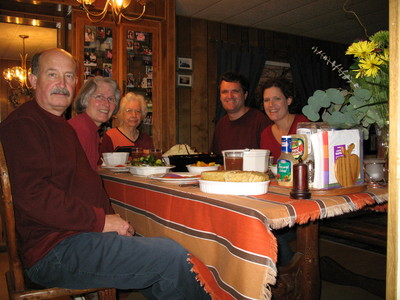 Thanksgiving in Wenatchee at my uncle's house where we enjoyed visiting and playing games for the weekend.
In October Brenda had a fall break which she spent in Michigan visiting her cousins and also her brother and his family who were there for training at the time. I was able to join her for two weekends although I had some flight troubles so ended up spending more time traveling than I actually got to spend there the second weekend. It was still worth it though and on the way home we were able to stock up on frozen berries for the winter. We also got to spend some time on the beach at Lake Michigan and had fun playing games a couple of evenings. Over the last weekend of the month we went camping at Fall Creek Falls with our young adults group and also did some hiking in the park.
We stayed home for a couple of weekends in November and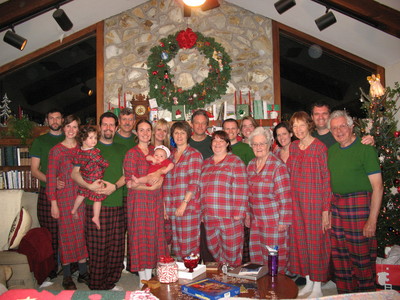 Family Christmas Picturethen drove up to my grandparents house on a Friday after work. We spent Sabbath in Nashville with my cousins for Zion's baby dedication and a 2nd birthday party for Elise. The following Wednesday we flew out to Wenatchee, WA to spend Thanksgiving with Brenda's parents. We also got to see some of her other relatives in the area and on Sabbath we had a wedding reception during potluck. We showed pictures, visited with friends who couldn't make it to our wedding and even had flowers and a cake. We enjoyed our visit in Wenatchee although it seemed too short as always.
We started off December by going to a local Christmas Parade and attending my work Christmas party which was held after the parade. We then visited my cousins in Nashville and watched their kids overnight while they celebrated their anniversary at a be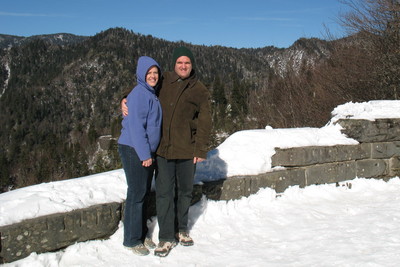 Smoky Mountain National Parkd and breakfast. We took the kids with us to the Spaghetti Factory where we met up with our young adults group. After supper we went to see the decorations at the Opryland Hotel before taking the kids home and getting them to bed. We had a fun time but also had some challenges with cold weather, rain and diaper issues. The following week my family arrived to spend the Christmas holidays with us. We had fun visiting with everyone and doing a few projects around the house while they were here. We all headed up to my grandparents house for several days as well, where we spent Christmas together with more family.
In January Brenda and I spent the long weekend MLK holiday at a cozy cabin in Gatlinburg. We had fun relaxing and t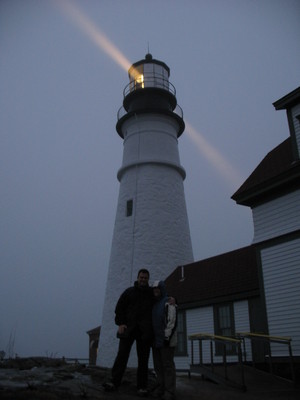 Portland Head Lighthouse in Mainehen got to enjoy some snow in Smoky Mountain National Park on the way home. We also came home via a scenic route which we later learned is known as the Tail of the Dragon. The road is extremely curvy and is a destination for motorcycle and sports car enthusiasts from all over. We were there in the winter late on a Monday though, so did not see many other vehicles. It was a scenic drive for sure, with good views of the river and several dams including the one filmed in Harrison Ford's movie The Fugitive.
We traveled to Boston to visit Graham & Amber for a long weekend over Presidents Day in February. After spending a night with them in Boston and attending church together we drove up to Graham's parents house in Maine. The snow banks at their house were probably around 12 feet high and there were still several feet of snow on the ground as well. On Sunday we went cross country skiing for a couple of hours and enjoyed blue skies and sunshine. After skiing Graham and I then went sledding before joining our wives back at the house. On Monday we headed back to Boston with stops at the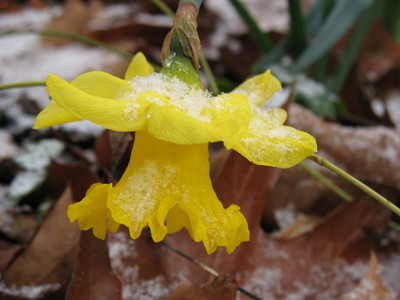 Late Snow in Chattanooga 3/8/2008L. L. Bean factory store and a couple of lighthouses on the Maine coast. We had a fun time seeing everyone and also enjoyed getting a taste of real winter in Maine. The following weekend we had a visit from Brooke, Jeffrey & family and had fun visiting and playing with the kids. On Sunday we all went to the Chattanooga Aquarium where Elise especially enjoyed seeing all of the "fishies".
In March Brenda's parents came to visit for a week during her spring break. I was also able to take some time off so we headed up to Gatlinburg for a couple of days. While there we had beautiful weather and enjoyed riding the Ober Gatlinburg tram and going down the alpine slide. We also visited Cades Cove where we enjoyed the views and saw lots of deer and some wild turkeys. On the way home we hiked on the Appalachian Trail and a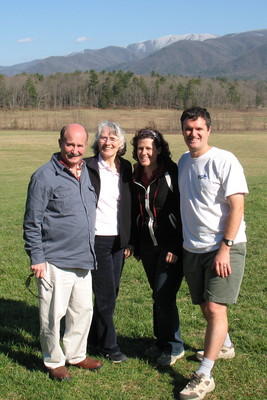 Cades Covelso stopped in Cherokee, NC to visit some craft stores. On Sabbath we attended our regular church and then went to the Sonrise Easter pageant put on by Southern Adventist University. The pageant is a large production complete with live animals, a Jerusalem market place and dramatizations depicting the last events of Jesus' life on earth.
This month we have been at home so far but have been keeping busy. Brenda is in the midst of standardized testing at work which is always a busy time and I have been extra busy with several technical projects at our church. My work has also been busy as we are gearing up to offer residential phone, internet and TV service over a new fiber optic network. Currently we provide phone and internet services just to area businesses, so the additional residential services will be a big change.
Well, I think that about covers what we've been up to for the past 10 months. Do keep in touch and look us up if you will be in the Chattanooga area.
Bye for now,
Andrew
PS As usual, more pictures are in our gallery.